Pillow Slip Cover
We are excited about the creativity and craftsmanship that our artisans display in their handmade 15″ x 15″ pillow slip covers. Each pillow slip cover is made from a posho bag and woven with African fabric or recycled t-shirt strips. Donated t-shirts are collected from high school and college students from all around America. Each person donating t-shirts becomes a part of our sustainability efforts. Pillow slip covers may be hand washed or washed on a gentle cycle in a washing machine. Due to the backing of the pillow slip cover being made of a plastic posho bag, the pillow slip cover must be line dried. The backing of the pillow slip cover has sewn assorted, complimentary fabrics and matches the colors on the front of the pillow slip cover. Because the pillow slip covers are beautifully handpicked and handmade by our artisans, every purchase will vary. Please note that our pillow slip covers can be used with any pillows that are 12 to 15 inches in size. The designs are a unique one-of-a-kind treasure for any home decor.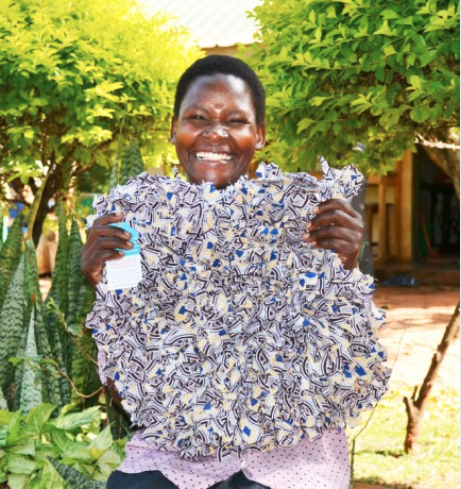 Each purchase tells a story and allows a woman to take another step towards sustainability! If you would like to purchase a pillow slip cover, please fill out the form below.
We would love to help you get started on a t-shirt drive in your community. Our artisans can make specific themed t-shirt rugs and pillow slip covers in colors that represent high schools, colleges, sororities, fraternities, or any other group! To get involved, email Tina Weir, Founder and Director of the James Place, at tina@heal-ministries.org .